Kruder and Dorfmeister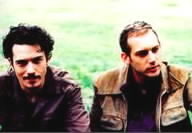 Years
1993 -
From
Styles
Members
Peter Kruder

Richard Dorfmeister

Search
Subcategories:
Releases:
Albums

Conversions: A K and D Selection
1996
DJ Kicks
1996
Bonus: Ceci Ni'est Pas Une Compilation
1998
K and D Sessions, The
1998

Singles

Black Baby
1996
G-Stoned EP [ep]
1996
User Reviews:
Chill Music
These guys are very relaxing. The ambient songs blend into each other with smooth transitions. Excellent for road trips when you don't have to get anywhere particuarly fast, or if you're just driving for recreation. Also good for a sensual evening with your significant other.
Rating:





External Resources:
Other Sites
Direct links to the same topic on other websites.
This category needs an editor