Dolly Parton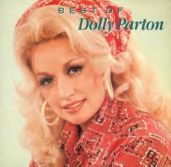 Years
January 19, 1946 -
From
Styles
Search
Subcategories:
Releases:
Singles

Jeanie's Afraid Of The Dark
1968
Daddy Come And Get Me
1969
Harper Valley P.T.A.
1969
Daddy Was An Old Time Preacher Man
1970
Muleskinner Blues
1970
Where Beauty Lives In Memory
1970
Burnin' The Midnight Oil
1971
Coat Of Many Colors
1971
The Right Combination
1971
Together Always
1972
When I Sing For Him
1972
Will He Be Waiting For Me
1972
My Tennessee Mountain Home
1973
Travelin' Man
1973
I Will Always Love You
1974
Jolene
1974
Lonely Coming Down
1974
Love Is Like A Butterfly
1974
Please Don't Stop Loving Me
1974
Bargain Store
1975
The Seeker
1975
All I Can Do
1976
Apple Jack
1977
Light Of A Clear Blue Morning
1977
Me And Little Andy
1977
There
1977
Baby I'm Burnin'
1978
Two Doors Down
1978
If You Go, I'll Follow You
1980
Making Plans
1980
Old Flames Can't Hold A Candle To You
1980
The House Of The Rising Sun
1980
Working Girl
1980
A 'Lil Ole Bitty Piss Ant Country Place
1982
Do I Ever Cross Your Mind
1982
I Walk The Line
1984
Save The Last Dance For Me
1984
Down From Dover
1985
Appalacian Memories
1987
He's Alive
1989
Take Me Back To The Country
1989
The Moon, The Stars And Me
1989
Wait Till I Get You Home
1989
What Is It My Love
1989
White Limozeen
1989
Why'd You Come In Here Looking Like That
1989
Yellow Roses
1989
Go Tell It On The Mountain
1990
Slow Healing Heart
1990
Time For Me To Fly
1990
Best Woman Wins
1991
Rockin' Years
1991
She's An Eagle When She Flies
1991
Silver And Gold
1991
Light Of A Clear Blue Morning REMAKE
1992
Straight Talk
1992
Cross My Heart
1993
Full Circle
1993
High And Mighty
1993
I'll Make Your Bed
1993
More Where That Came From
1993
Put A Little Love In Your Heart
1993
Romeo
1993
Slow Dancing With The Moon
1993
What Will Baby Be
1993
Whenever Forever Comes
1993
Why Can't We
1993
You Got Me Over A Heartache Tonight
1993
P.M.S. Blues
1994
To Daddy
1994
Just When I Needed You Most
1996
It's All Wrong, But It's Alright
1997
Honky-Tonk Songs
1998
Cash On The Barrelhead
1999
Endless Stream Of Tears
1999
I Am Ready
1999
I Still Miss Someone
1999
I Wonder Where You Are Tonight
1999
I'm Gonna Sleep With One Eye Open
1999
Just A Few Old Memories
1999
Silver Dagger
1999
Steady As The Rain
1999
The Grass Is Blue
1999
Train, Train
1999
Travelin' Prayer
1999
External Resources:
Other Sites
Direct links to the same topic on other websites.
This category needs an editor