REO Speedwagon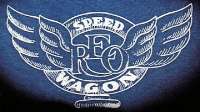 Years
1967 - present -
From
Styles
Members
Bruce Hall
bass
Bryan Hitt
drums
Dave Amato
lead guitar
Kevin Cronin
lead vocals
Neal Doughty
keyboards
Former Members
Alan Gratzer
drums
Bill Fiorio (a/k/a Duke Tumatoe)
lead guitar
Gary Richrath
lead guitar
Graham Lear
drums
Gregg Philbin
bass
Michael Murphy
lead vocals
Miles Joseph
lead guitar
Steve Scorfina
lead guitar
Terry Luttrell
lead vocals
Search
Subcategories:
Biography: REO Speedwagon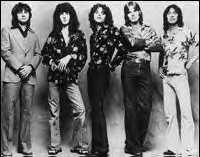 Formed during an era that bred hard rock, REO Speedwagon began its musical journey in 1967. The original lineup consisted of pianist Neal Doughty [b. July 29, 1946, Evansville, IN] and drummer Alan Gratzer [b. November 9, 1948, Syracuse, NY]. After donning its unusual name (derived from the early American version of the fire engine that was developed by Ransom E. Olds), the band added 21 year-old songwriter and guitarist Gary Richrath [b. October 18, 1949, Peoria, IL], vocalist Terry Luttrell and bass player Gregg Philbin to round out the group.
These five young and eager men set out to leave their mark on the music industry, and hoped to reach the pinnacle of success where other famous hard rock artists resided. REO Speedwagon made its first attempt with 1971's Epic Records release of the self-titled album REO Speedwagon. Despite high hopes, the record failed to even scrape the bottom of the charts.
A year later, after Terry Luttrell was replaced by Kevin Cronin [b. October 6, 1951, Oak Lawn, IL], the band released R.E.O/T.W.O, which also failed find an audience. After Kevin Cronin left, Michael Murphy filled his shoes. The band persevered and released its third album, Ridin' The Storm Out, in 1973 with Epic Records. Finally, the band had made a record that managed to hit the charts and climb to No. 174.
Continuing its momentum, REO Speedwagon released Lost In A Dream, which climbed to No. 98 on the charts. This Time We Meant It was released in 1975 and weighed in at No. 74 on the charts. This album was Michael Murphy's last record with the band due to creative differences, but REO Speedwagon kept finding more and more fans.
The band's first live album, You Get What You Play For, brought REO Speedwagon its first moderately successful single, "Ridin' the Storm Out." This album marked the beginning of a series of hit albums and singles for the group.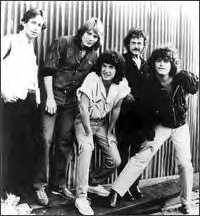 Change was in the air in 1978, as Bruce Hall [b. May 3, 1953, Champaign, IL] succeeded Gregg Philbin as bass guitarist and was featured on the band's next album, You Can Tune A Piano, But You Can't Tuna Fish. The record, which was the group's greatest success to date, shot up to No. 29, and went platinum.
The band released two more albums, but it wasn't until Hi Infidelity was released in 1981 that REO Speedwagon had its first No. 1 record. The album also produced a series of hit singles that included "Keep On Loving You," "Take It On the Run," "Don't Let Him Go" and "In Your Letter."
The album exemplified the band's change in its musical direction as it began moving from hard rock to power ballads, and produced more mainstream rock. The band continued to release hit albums such as Good Trouble in 1982 and Wheels Are Turnin' in 1985. Both albums peaked at No. 7.
The band finished out the '80s with the 1987 album Life As We Know It, which capped off at No. 28. The next year found REO Speedwagon releasing a greatest hits album that also did well, and it managed to capture many of the band's successful recordings. The greatest hits album was also responsible for July 1988's No. 20 hit, "Here With Me."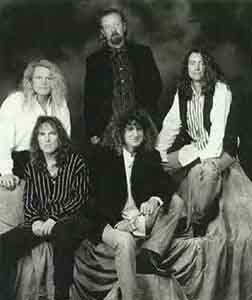 Once again, the band shifted members when Alan Gratzer left and was replaced by Graham Lear, and when Richrath left only to be replaced with Miles Joseph on lead guitar. Dave Amato [b. March 3, 1953, Framingham, MA] was added as lead guitarist and background vocalist, and Bryan Hitt [b. January 5, 1954, Center, TX] filled out the new group on percussion.
This new lineup set out to record a 1990 release, The Earth, A Small Man, His Dog, and A Chicken, which failed to chart.
In 1991, Harms left the band, and REO Speedwagon has continued with only five members. Subsequent albums made with the remaining members have also failed to chart, as the band continues to play songs that were hits more than 20 years ago.
Contributor organisation:
REO-FANS.COM
Releases:
Appearances:
Compilation Albums

Jane Fonda's New And Improved Workout
1984
Jane Fonda's Workout Tape
1984
1st Down And Ten
1986
Precious Metal
1990
Jailhouse Rock
1995
Boston/REO Speedwagon Disc 1
2000
Boston/REO Speedwagon Disc 2
2000
Division Street
2000
A Classic Rock Christmas
2002
Mullets Rock
2002

Soundtrack Albums

FM
1978
The Goonies
1985
Sing
1989
User Reviews:
STYX, JOURNEY REVS UP, BUT SPEEDWAGON JUST IDLES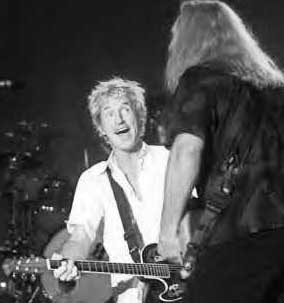 (July 28, 2003) PEORIA - Styx and Journey showed two sides of a rock 'n' roll coin Tuesday night at the Peoria Civic Center. Styx burst out and bounded through a rowdy, playful set. Journey closed the night with a polished, energetic revue.
In between, REO Speedwagon showed up. I'm not sure why. The band could've just sent in a tape of last year's concert here....Though many of the spectators were gray(ing) and bald(ing), the crowd boasted a bevy of fans young enough to have been conceived on nights when the three bands' ballads served as prom themes.
Styx kicked off the night with guitarist Tommy Shaw (clad in what looked like the same polyester shirt I wore in eighth grade) leading the charge through "Too Much Time on My Hands." Although any aging rock outfit has to play its oldies (Grand Illusion, Blue Collar Man, Renegade), the Chicago band nonetheless came across as invigorating in its 67-minute set.
For one thing, it had new songs to offer, including Fields of the Brave and Waiting for Our Time from the current Cyclorama CD. For another, in a surprise, Chuck Panozzo, the founding bassist in whose basement the band got its start in the late '60s, made one of his rare concert appearances halfway through the set, turning the quintet into a sextet.
Shortly thereafter, Panozzo's permanent replacement, Glen Burtnik, whooped up the crowd by popping up midway in the arena and barking out the neo-punkish new tune "Kiss Your Ass Goodbye." He danced and bopped his way through the venue, once even pausing to segue through a chunk of the Buddy Holly classic "Not Fade Away."
To add to the pizazz, a back-of-the-stage big screen showed a series of stream-ofconsciousness images: clocks, carrots, flames, fireworks - and, just in case any of the 55-year-olds in the audience still dropped acid, psychedelic twists of color. And throughout the concert, Shaw and guitarist James Young fielded bras tossed onto the stage - yes, chicks (even aging ones) still do that at arena-rock shows - and displayed them on the tips of their six-strings.
After intermission, REO took the stage and offered 69 minutes of no surprises. None. The act was pretty much a rerun of last year's. Even the opener was the same, ''Riding the Storm Out,'' which frontman Kevin Cronin keeps insisting on singing without of any of its original exuberance, as if he's trying to become the Gordon Lightfoot of Champaign.
The rest of the set featured the same old, same old, including the entire side one of the 1981 gazillion-selling LP Hi Infidelity. Hearing a long-lost single like In Your Letter was interesting last year, but such repetition this time around - plus the overwhelming concentration on ballads (Time for Me to Fly, In My Dreams, Can't Fight This Feeling, Keep on Loving You) - came off as unimaginative and lackluster....

Cronin talked about going to a recent party at a Playboy Club in California, where he was told a centerfold wanted to meet him because she'd used REO's music as her muse when she modeled for the magazine. As he enthusiastically approached her, her face fell into puzzlement, and then she realized her inspiration had not been REO, but REM.)
After the second intermission, Journey, like REO, blasted through plenty of oldies and ballads, too. But Journey does a better job of adhering to the American Bandstand maxim: Always follow a slow song with a fast one.
Further, betwixt the likes of Stone in Love, Wheel in the Sky, Don't Stop Believing and Separate Ways, the band allowed itself to noodle around a bit.
Keyboardist Jonathan Cain plunked through an intricate, quasi-classic intro to Open Arms, and later honked through a wicked harmonica solo. Founder Neal Schon peppered the night with occasional, brief guitar solos, and early on even blistered through The Star-Spangled Banner; yeah, that's been done before, but Schon - who is so '70s he sometimes uses a 12-string double-neck - is a gifted player and carried it off well.
Newish singer Steve Augeri seems to have settled in with aplomb. Augeri, who joined the band three years ago, boasts those hard-to-define subtleties of a frontman: knowing when to push an audience, when to fall back, that sort of panache. Not only does he look somewhat like Steve Perry (even a big schnozz), he's a vocal doppleganger, if just a bit nasal - like Perry with a peanut in one nostril.
The only real complaint with the 80-minute set involved the closing encore, ''Faithfully.'' Perhaps Journey's slowest ballad, the song just petered out, then the band straggled offstage, an unfitting ending for a (mostly) rollicking night of arena rock.

Contributed by:
Phil Luciano
Contributor organisation:
Peoria Journal
External Resources:
Newsgroups
Other Sites
Direct links to the same topic on other websites.
This category needs an editor