Search
Timeline:
1971: "REO Speedwagon" Released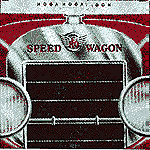 After playing high school dances, college events and local bars in and around Champaign Illinois (Chances R, Brown Jug and the Red Lion), REO finally came to the attention of Paul Leka, a producer who owned a small 8-track studio in Bridgeport, Connecticut. Watching the band perform before a cheering crowd in the middle of a midwest thunderstorm in Peoria, Illinois (hometown of Gary Richrath), he was hooked and persuaded the band to fly to Connecticut to record their first album.
During that initial recording session in Bridgeport, the band wrote one of their most popular and enduring concert songs, "157 Riverside Avenue," which they still use as an encore today.
To finance their trip and pay for expenses, the band earned $100 making a commercial for "Night Fighter," a zit cream.
NOTE: This album was never issued in CD format in the United States. In 1991, Sony Music Products released a CD in their European market, only. Bootlegs abound on the internet, including a bogus record label called "Federalist" supposedly based out of Canada. The individual who bootlegs this CD converted a scratched up old LP into a CDR, and it's an incredibly poor quality recording. Don't get ripped off!
More Information...
1972: "REO T.W.O" Released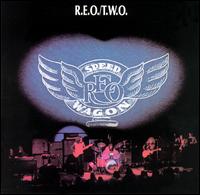 Lead singer Terry Luttrell leaves to front the band
"Starcastle"
and Kevin Cronin is hired to take his place.
Cronin was an unemployed musician in Chicago, and was running a scam "musician's referral service" to attract potential gigs. Richrath called him up looking for a lead singer, and Cronin naturally recommended himself.
REO/T.W.O. was quickly recorded at a 16 track studio in Nashville, Tennessee, while the band stayed at the same hotel as the Rolling Stones when they came through town.
Most of the songs on this album were Gary's, including the classic "Golden Country." Says Richrath, "Champaign was a hip town, and I couldn't help but be dragged into a political awareness. It was protest time. I remember sitting in the student union at about 8 o'clock in the morning -- feeling totally burnt and fried at the point where I was bummed with the whole world. I looked up and these people were rushing in promoting a lettuce boycott, and for some reason that got me politically motivated. I saw the light. I ran home at about 9 or 10 o'clock in the morning. There was a Newsweek sitting on the top of the piano and I just started playing. I looked up again and one of the Newsweek stories was entitled Golden Country. It was an article about the war. I started writing.. ."
More Information...
1973: "Ridin' the Storm Out" Released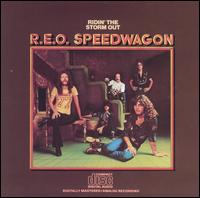 The band re-groups in Los Angeles at the Record Planet to record their third album,
Ridin' the Storm Out
. For a mere $1,500 a month, they stayed at Gypsy Rose Lee's house in Trousdale Estates. Although having fun was a major component of the band's recording process, Cronin decided he would rather play than record. After routinely skipping recording sessions, he aggravated the rest of the band and tensions flared. Finally, the guys had their fill of his "prima donna" attitude, and told him to take a hike.
Singer Mike Murphy, who had fronted the popular Champaign band, One-Eyed Jacks, climbed on-board. Cronin's image was air-brushed out of the album cover and replaced by Murphy. The song "Ridin' the Storm Out," with Murphy's vocals, was the first REO song to hit the charts, weighing in at #174.
More Information...
1974: "Lost In A Dream" Released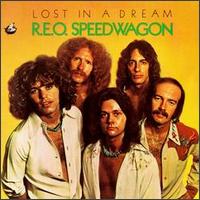 The band hooked up with Crosby, Stills, Nash and Young producer Bill Halverson and recorded this album at the Record Plant in Sausalito. A guest appearance was made by Sylvester "Sly Stone" Stewart who re-recorded the bass, guitar, piano, and keyboard tracks to one of Murphy's songs.
This album also marked the debut of songwriter Bruce Hall, who co-wrote the title track with Murphy. Hall would subsequently join the band after the departure of bassist Gregg Philbin in 1977.
The album also featured Gary Richrath on vocals, where he sang "Wild As the Western Wind."
More Information...
1975: "This Time We Mean It" Released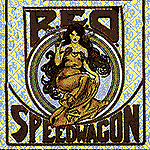 Released in July, 1975 this album was recorded in Miami at Criteria Studios, where the Eagles were also camped out. In fact, the composition "Out of Control" by Eagle's Don Henley and Glenn Fry made the album cut. Richrath and Murphy spilt songwriting duties, but were divided on a number of creative issues. Richrath again records vocals, appearing on the song "Dance." More differences arise and Murphy leaves the band.
REO's tour manager, Alan Green, tracks down Cronin in a little bar in Chicago where he is singing for his supper, dressed in hush puppies and cordoroy pants. Cronin jumps at the chance to re-join the band, and flies to LA the next day. After rehearsing for about a week, the band hits the road again.
More Information...
1976: "REO" Released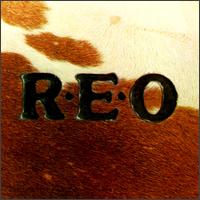 Although the band has a strong following in the midwest, they decided to pack up and leave for California to release this album in June, 1976. Known to the L.A. crowd as a bunch of hick mid-westerners, the band is convinced to use the artwork of a cowhide brandishing "R.E.O." on the front cover.
Band members credit the album cover as well as production by John Stronach as contributing factors to poor album sales. Undetered by commercial failure, REO's songwriting is as strong as ever, and this album remains one of the band's favorites. It features co-writing credits by both Richrath and Cronin on the songs "Breakaway" and "Ligntning." However, Richrath and his guitar steal the spotlight in the instrumental tune "Flyin' Turkey Trot," a predecessor of the "Unidentified Flyin' Tuna Trot."
More Information...
1977: "Live: You Get What You Play For" Released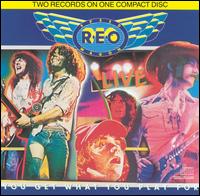 1977 was a year of change for REO. Bruce Hall was officially brought into the fold to replace Gregg Philbin on bass. Hall got the call to join the band at Ted's Warehouse in Charleston, Illinois, where he was playing for the campus crowd from Eastern Illinois University. The band also parted company with their ruthless manager, Irving Azoff, a former chemistry major from the University of Illinois at Urbana/Champaign.
Steve Cowart, a filmaker REO would meet up with in the future during 1985's Live Aid, was filming a Blue Oyster Cult show back in '77. Second on the bill was REO Speedwagon. While watching the first band, Kevin Cronin asked Cowart for an honest opinion about what he thought about the band. Cowart reluctantly said that they were "Okay, but..." as he searched for the most tactful way to appease REO's lead singer without pissing him off.
Cowart told Cronin he'd heard all of REO's albums up to that point, but didn't own any. Finally Cronin said "...inconsistent... our albums up to that point have been inconsistent." Relieved by Cronin's honesty, Cowart replied "Yeah, that pretty well hits the nail on the head." Cronin told him, "Well, in two weeks we are releasing a new album called YOU GET WHAT YOU PLAY FOR and tonight's show is gonna blow you away!" He was right, and it became the band's first platinium-selling release.
This album, primarily produced by the band, was the first to capture REO's energy before a live audience. Sixteen Cronin and Richrath songs were performed at Busch Stadium in St. Louis, setting an all-time attendance record that surpassed the Beatles. The album features a run-through of REO's greatest hits, highlighting the creativity of the band's dynamic songwriting team.
When the album was transferred into CD format by Sony, REO's cover of Chuck Berry's "Little Queenie" was cut as well as "Gary's Guitar Solo."
More Information...
1978: "You Can Tune A Piano But You Can't Tuna Fish" Released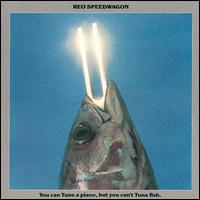 The band's record label wasn't happy this album was 6 months behind schedule and $200,000 over budget. However, it produced two singles that charted and was certified platinium by the RIAA in 1980. "Roll With the Changes" and "Time for Me to Fly" only climbed to number 58 and number 56 on the charts, but it proved that Richrath's fiery guitar and Cronin's vocals were a mixture of success.
The title for the album comes from a line in an old Marx Brother's movie that was suggested by one of the band's friends at a party. Epic loved the idea and hired an artist to design an album jacket cover of a fish with a tuning fork. The cover itself is an actual un-retouched photo that was shot in the desert around Joshua Tree. To obtain the "perfect" lighting, it was shot at sunrise on a cold winter morning.
More Information...
1979: "Nine Lives" Released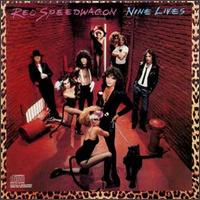 "Nine Lives" was REO's ninth album with 9 tracks, released in August, 1979. It features "Back On the Road Again," a concert staple sung by bassist Bruce Hall which gave Cronin a chance to rest his pipes. During the Nine Lives tour, his breathy Led Zeppelin-like orgasms on "Heavy on Your Love" was a sight to behold. "Easy Money" was also a crowd favorite, played with a unique Caribbean vibe the band used again to re-record one of its hits on Second Decade.
During the Nine Lives tour, the band struggled for audiences on both coasts, but remembered Richrath's motto of "Only the Strong Survive." Finding a home in the midwest, REO played to a crowd of 35,000 at Kansas City's Royals Stadium that summer. When lightning flashed across the sky and the thunder rolled in, the band played on. They keenly remembered a day back in Peoria in 1971....
More Information...
1980: "A Decade of Rock and Roll 1970 to 1980"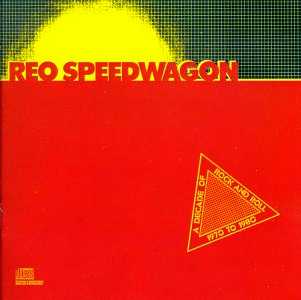 Originally released in 1980 in an LP format, this two album set features 97 minutes of a mixture of the band's live and studio recordings from every album recorded to date. The only "new" song to appear was Cronin's studio debut of "Son of a Poor Man," which was resurrected from the band's original "Ridin' the Storm Out" album tracks before Cronin was replaced by Mike Murphy.
Buyer Beware: The CD version differs from what was recorded on the 2 LP set. Cronin's scat on "157 Riverside Avenue" -- a 12 1/2 minute jam -- was politically corrected to delete references to Cronin describing himself on a date with a "big ol' glass of my favorite wine in one hand, smokin' a big ol' jay in the other -- people I was feeling GOOD!"
The telephone conversation between Kevin and Gary was also edited, which omitted the "Let that telephone ring" part of Cronin's scat.
Other quirks: On the audiocassette version, there's no break between the first six songs on Side Two, which makes using the search feature on a car tape player virtually impossible.
More Information...
1981: "Live Infidelity" Video Released
More Information...
1981: "Hi Infidelity" Released
More Information...
1982: "Good Trouble" Released
More Information...
1985: "Best Foot Forward" Released
More Information...
1985: "Wheels Are Tourin'" Video Released
More Information...
1988: "The Hits" Released
More Information...
1991: "The Second Decade of Rock and Roll 1981 to 1991" Released
More Information...
1991: "Keep On Loving You - Best" Released
More Information...
1991: "Video Anthology 1978 - 1990" Video Released
More Information...
1993: "Star Box" Released
More Information...
1995: "Subway in Tokyo" Released
More Information...
1995: "Believe In Rock And Roll" Released
More Information...
1995: "High Infidelity Gold" Released
More Information...
1996: "Building The Bridge" Released
More Information...
1998: "Only The Strong Survive" Released
More Information...
1998: "Premium Best" Released
More Information...
1999: "The Ballads" Released
More Information...
2000: "Styx And REO Speedwagon Arch Allies Live At Riverport" Video Released
More Information...
2001: "Time Flies Anthology" Released
More Information...
2001: "Arch Allies: Live at Riverport Disc 2" Released
More Information...
2001: "Simply The Best" Released
More Information...
2001: "Take It On The Run" Released
More Information...
2001: "Arch Allies: Live At Riverport Disc 1" Released
More Information...
2001: "Extended Versions: The Encore Collections" Released
More Information...
2001: "Live Plus 3" Video Released
More Information...
2001: "Live Plus" Released
More Information...
2001: "Live - Plus" Video Released
More Information...
2002: "Keep On Rollin'" Released
More Information...
2002: "Real Artists Working" Video Released
More Information...
2003: "The Essential REO" Released
This category needs an editor