Silly Wizard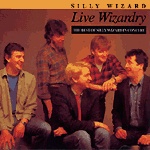 Years
1971 - 1988
From
Styles
Members
Andy M. Stewart
vocals, tenor banjo
Bob Thomas
guitar, 5 string banjo, mandolin
Christopher Pritchard
vocals
Gordon Jones
vocals, guitar, bouzouki, bodhran
John Cunningham
fiddle, mandolin
Martin Hadden
bass, keyboards
Phil Cunningham
accordion, whistle, keyboards
Former Members
Alasdair Donaldson
bass, flute
Bill Watkins
vocals, guitar
Freeland Barbour
accordion
Madelaine Taylor
vocals, guitar, bodhran, spoons
Neil Adam
bass, harmonium
Search
Subcategories:
Releases:
Appearances:
Compilation Albums

Celtic Love Songs [Celtophile]
Celtic Love Songs [Shanachie]
Celtic Tapestry, A
Celtic Tapestry, Vol. 2
Celtics Rise Again
Flight of the Green Linnet
Green Linnet 20th Anniversary Collection
Joyful Noise: Celtic Favorites from Green Linnet
Rough Guide to Scottish Folk, The
Scotland Forever
Traditional Music of Scotland
Voice of Celtic Music
Troubadours of British Folk, Vol. 3
1995
Celtic Folk Festival - 1996
1996
25 Years Of Celtic Music
2001
External Resources:
Newsgroups
Other Sites
Direct links to the same topic on other websites.
This category needs an editor