Troy Dillinger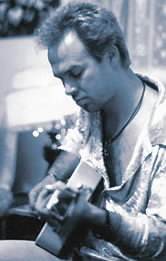 Also Known As
From
Styles
Members
Dave Appel
pianist, keyboardist
Hunt Sales
percussionist, drummer, vocalist
Kevin Carroll
guitar, vocalist
Lonnie Trevino, Jr.
bassist, vocalist
Scott Garber
bassist
Troy Dillinger
vocalist, guitarist, lap steel, sitar
Former Members
Ben White
bassist, vocalist
Bryan Keeling
percussionist, drummer
Charles Reiser
guitarist
Cole ElSaleh
keyboardist, vocals
Rob Hooper
percussionist, drummer
Stewart Cochran
pianist, keyboardist
Search
Subcategories:
Biography: Troy Dillinger
Born in Canton, OH (home of fellow freaks Marilyn Manson and Macy Gray), Troy Dillinger began his musical journey after moving to Austin, Texas at the age of 9.
Previously a creative personality without a set medium, he recieved an acoustic guitar for Christmas at the age of 13 and began learning bass parts on the pawn shop gift. Three years and two lessons later, he was performing professionally by night and attending high school by day. He also joined the high school jazz band as a "ringer" and to get out of regular classes.
Troy's role as bass player for the Austin band "The Urge," with friend Paul Minor provided an opportunity for him to play in Austin clubs and build his reputation as a musician. His next project was a short-lived band called "Chinese Cowboys" with Fastball's Miles Zuniga, which was followed by a short stint with "Steel Power," a local Soca and Calypso band with members from Trinidad and Tobago.
His first International tour came at the age of 18, with Los Angeles wild man Dino Lee's "Godz Among Men". A memorable tour, Dillinger lost his front teeth on the first night of the 3 week tour when he was hit in the mouth with a quart of beer thrown by an irate fan. Other highlights of the tour were playing RPM in Toronto and The Limelight in NYC, where rock god Lemme Kilmeister and guitarist Steve Stevens took in the theatrical show.
Upon his return to Austin, he found himself in the formation of the infamous "Band from Hell", which featured former bandmate Miles Zuniga. In BFH's existence (1986-1990), it hosted many talented and noteworthy musicians, including Mike Carroll (Poison 13), Bobby "Rock" Langraff (Gahdzilla Motor Company), Phillip Patterson (Watchtower), Christopher Bray (The Meatmen), and cofounder Johnny Medina.
After BFH's breakup and a year hiatus from music, Dillinger hired on with the Rolling Stones for their "Steel Wheels" Tour, where his love for music was rekindled, giving him new interest and direction. He formed "Del Dragons" in 1991 and switched instruments to guitar.
The "Del Dragons" moniker stuck around for another 8 years, although the "band" had long since become Dillinger's sole vehicle. Since 1992, the live / studio bands have hosted a "who's who" of Austin and International musicians, including Ian McLagan (the Faces/Small Faces, Rolling Stones, Bonnie Raitt, Rod Stewart, Billy Bragg), Brian Wenz (The Road, the Chambers Brothers, the Pretenders), Kevin Carroll & Keith Robinson (Charlie Robison, Jimmy LaFave), Mike "Cornbread" Traynor (Alejandro Escovedo), "Scrappy" Jud Newcomb (Ian McLagan, Loose Diamonds, Toni Price), Brian Zoric (Beaver Nelson), Dana Meisner (Cotton Mather), and most recently, Scott Garber (Ronnie Lane, Calvin Russell, Alejandro Escovedo), Stewart Cochran (Jimmy LaFave, Calvin Russell, Dahveed Garza, 54 Seconds), and Rob Hooper (Jimmie Dale Gilmore), and Robert Kearns (the Bottle Rockets).
After yet another hiatus from music in 1996, he teamed up with new musicians under the "Del Dragons" banner and recorded the band's first full-length recording, "Southern Jumbo." The CD was self-released in the US, and on the DixieFrog/MSI label in Europe and led to a 2 month tour of Europe in mid-1998. The tour and disc were successful in Europe, recieved praise in the European press, and led to a national televised concert on the tour's stop in Russia. Another CD, "Live In Paris," was released in 1999 and documented the band's successful stand in Paris while appearing on OUI-FM's "Live at the Chesterfield" radio show.
Upon his return from Europe, Dillinger shifted gears and began the process of building a name for himself as a solo artist. Since 1999, he has been touring the Western US, primarily as a solo acoustic act, and has self-released 3 additional CDs -- "Lookie What I Done (in my garage...)," "Fine So Far," and "Troy Dillinger and a Guitar." Near completion is a fourth, "Vivre," which features Stephen Bruton (Kris Kristofferson, Bonnie Raitt, Bob Dylan), Jon Dee Graham (True Believers, John Doe), Bruce Hughes (Poi Dog Pondering, Cracker, Bob Schneider), and was co-produced by Dillinger, Bruton, and Oscar/Grammy winner Chet Himes.
In 2001-2002, Troy Dillinger has honed his songwriting and performance to a wistful yet silly, energetic and engaging informal relationship with his audience. He has also taken to renaming his backing band quarterly.
After nearly 20 years as a professional musician/frontman/songwriter, Dillinger is as wierd and jaded as you might expect. He gets an almost sick pleasure out of being "one of those famous musicians you never heard of," and he enjoys writing about himself from the third person.
Contributor organisation:
Stinky Derringer Music
Releases:
Related Categories:
External Resources:
Other Sites
Direct links to the same topic on other websites.
This category needs an editor