Goudie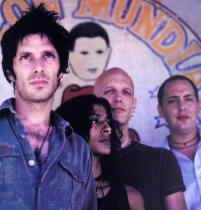 Years
1997 - 2002
From
Styles
Members
Former Members
Bill Lefler
drums
Jimmy Messer
guitar
Sean Mullens
guitar
Search
Delivering melodic rock, with socially impacting lyrics.
Subcategories:
Biography: Goudie
Goudie started out as a solo project for frontman Johnny Goudie in late 1997. The original members also included Kyle Schneider on drums. In 1998, Johnny's long time friend Einar, stepped into replace the current bass player. It was also around this time drummer Bill Lefler replaced Kyle, and the band also bought in lead guitarist Jimmy Messer.
In the Spring of 1998, Goudie played the SXSW Music Festival in Austin, Texas, where
Metallica
drummer Lars Ulrich happened to be. Lars had just started a label, and quickly signed the band, making Goudie the second band to be signed to The Music Company label.
In July 2000 the band released their debut album
Peep Show
. Their first single Baby Hello turned Platinum.
In late 2001, Goudie announced that Bill Lefler was leaving to pursue session work in Los Angeles. The band took a break from touring for a spell. In April 2001, the illustrious Nina Singh (
Kitty Gordon
), replaced Bill with ease, and the band continued to work and write new material.
In June 2001, the Music Company released them from their contract, and in early July, Jimmy Messer played his last show. The band signed with India Records pretty soon after, and Sean Mullens stepped in to play lead guitar.
Goudie's first release on the new label,
Effects of Madness
, has been extremely well received, which saw it released nationally, March 5th, 2002.
After five years together and releasing two critically acclaimed albums, Peep Show (Elektra) and …Effects of Madness (India), and relentless touring that earned the band a loyal following, Goudie finally called it quits in the spring of 2002.
Johnny Goudie is currently persuing a solo career. Einar is freelancing, although he still makes an appearance on Johnny's new solo CDs. Nina is dedicating more time to her band Kitty Gordon and her India Records label.
Contributed by:
poppyseed
Releases:
Albums

Peep Show

(3 links)

2000
Effects of Madness

(3 links)

2001

Singles

Baby Hello
2000
Drag City
2000
Already Here
2001

Online Releases

Already Here
2001
Related Categories:
External Resources:
Other Sites
Direct links to the same topic on other websites.
This category needs an editor