Johnny Goudie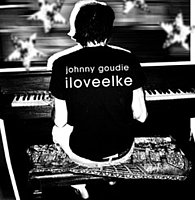 Years
1968 -
From
Styles
Search
Combining original songwriting, with enticing vocals, inventive guitars, keyboards, and oh so very occassionally, drums, bakes a truely mezmorizing rockstar. The multi-gifted Johnny Goudie was born in Miami, Florida.

Subcategories:
Biography: Johnny Goudie
Miami born and raised! In the mid 1980s Johnny moved to Houston, Texas and started out in a funk-soul band called Panjandrum. That band broke up in 1990. At about the same time, Johnny was working as a solo artist, and was also in a band called Lovetree.
In 1994, and living in Austin, Texas, he joined the Rock band Mr. Rocketbaby. Then in the Summer of 1997, Johnny played in the alternate band Jez Spencer, along with fellow Goudie band mate Einar. After contributing to some tracks on an album, he departed to continue with his solo career. Soon after
Einar
joined him, and in 1998 the band
Goudie
was formed.
After five years of relentless touring with Goudie, and two critically acclaimed albums, the band Goudie parted ways.
With a loyal fan following, Johnny and his syrup-soaked vocals decided to gather up five years of unreleased material, and put out a CD called "18 unreleased home demos 1996-2001" - a mere entree for his loyal fans, in comparison with the full length studio album titled, "I Love Elke". The album was named after 1960s actress Elke Sommer, and was written and recorded during the Summer and Fall of 2002, in Johnny's home studio. Johnny Goudie plays all of the instruments himself with appearances by long-time friend
Einar
and
Jonas Wilson
, as well as
God Drives a Galaxy
's, John Constant.
The album was released on StrangeLove Records -- a label dedicated to artists making records on their own terms.
Johnny Goudie has colaborated with dozens of artists also including,
Aimee Mann
,
Jeff Klein
,
Patty Griffin
, and Darin Murphy, to name but a few.
Contributed by:
Julie Martin (poppyseed)
Releases:
Appearances:
Related Categories:
External Resources:
Other Sites
Direct links to the same topic on other websites.
This category needs an editor