Barry McGuire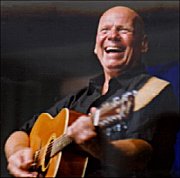 Years
1935 -
From
Styles
Search
Barry started his career in folk music, performing with Barry Kane and then joining the New Christy Minstrels in 1962. The "Christys" had several hits, including "Green, Green" but it wasn't until three years later that Barry McGuire became a household name with the P.F. Sloan social anthem, "Eve Of Destruction".

In 1971, Barry embraced Christianity and soon lent his hand to the creation of Jesus Music, the melding of the Gospel with rock music rhythms. Today, he still performs in concert, solo, with John Michael Talbot and Terry Talbot, and with The New Christy Minstrels.
Subcategories:
Releases:
Albums

Barry McGuire Album
1963
Barry McGuire Featuring Eve Of Destruction
1965
Star Folk With Barry McGuire
1965
This Precious Time
1965
Barry McGuire Album [reissue]
1966
Star Folk Vol. 2 With Barry McGuire
1966
The World's Last Private Citizen
1967
Barry McGuire And The Doctor
1971
Seeds
1973
Lighten Up
1974
To The Bride
1975
C'Mon Along
1976
Have You Heard
1977
Bullfrogs and Butterflies
1978
Cosmic Cowboy
1978
Inside Out
1979
Best Of Barry McGuire
1980
Polka Dot Bear
1980
Exaltation
1981
Finer Than Gold
1981
Pilgrim
1989
El Dorado
1990
Eve Of Destruction Man
1992
The Best Of Barry McGuire
1995
When Dinosaurs Walked The Earth [with Terry Talbot]
1996
Ancient Garden [with Terry Talbot]
1997
Frost and Fire [with Terry Talbot]
1999

Singles

The Tree
1961
Child Of Our Times / Upon A Painted Ocean
1965
Eve Of Destruction / What's Exactly The Matter With Me
1965
This Precious Time / Don't You Wonder Where It's At
1965
Cloudy Summer Afternoon(Rain Drops) / I'd Have To Be Out Of My Mind
1966
I'd Have To Be Outta My Mind / Walking My Cat Named Dog
1966
Masters Of War / Why Not Stop & Dig It While You Can
1966
There's Nothing Else On My Mind/Why Not Stop And Dig It While You Can
1966
Inner Manipulations / Lollipop Train
1967
Top O' The Hill / The Grasshopper Song
1968

Videos

First Love
Appearances:
Related Categories:
External Resources:
Newsgroups
Other Sites
Direct links to the same topic on other websites.