Tarkan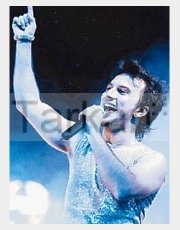 Born
Tarkan Tevetoğlu
Years
1972 -
From
Styles
Search
Turkish popstar Tarkan, born Tarkan Tevetoğlu on October 17, 1972 in Alzey, Germany, is known in Europe and the Americas for the song Şımarık (Spoilt/Kiss Kiss/Chanson Du Bisou/Besos). This song was later reincarnated as Kiss Kiss by Holly Valance.
Subcategories:
Releases:
Appearances:
Compilation Albums

Bravo Hits 26
1999
Playlist N°2
1999
Supreme Orient
1999
Turkish Supréme
1999
Viva Hits, Vol. 4
1999
Bomba Dance Mix
2000
Dream Dance
2000
Pop Turkish
2000
Sikidim: The Best Of Turkish Pop
2000
Summer Dance Hits
2000
Trip Around the World
2000
Buddha Beats
2001
Trip Around The World, Vol. 2
2001
Voile Rouge at St Tropez Vol. 2
2001
Voile Rouge at St Tropez Vol.1
2001
Top Dance Of 2003 Vol. 2
2003
Athens Olympics Unity Album
2004

Soundtrack Albums

Disney's Hercules
1998
Beau Travail
1999
Geboren In Absurdistan
2000
XX/XY
2002
Related Categories:
External Resources:
Other Sites
Direct links to the same topic on other websites.
This category needs an editor