Dead Kennedys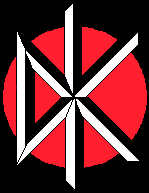 Years
1978 -
From
Styles
Members
Brandon Cruz

D.H. Peligro
drummer
East Bay Ray
guitarist
Klaus Fluoride
bassist
Former Members
6025
guitarist
Bruce Slesinger
drums on 1979 & 1980 releases
Jello Biafra
vocals
Search
The band is currently on tour with Brandon Cruz as their vocalist after Jello Biafra and Alternative Tentacles lost a trial concerning the rights to use the Dead Kennedys name and recordings.
Subcategories:
Releases:
Appearances:
Compilation Albums

Can You Hear Me? Music from the Deaf Club
1980
Burning Ambitions: A History of Punk
1982
Let Them Eat Jellybeans
1982
Not So Quiet on the Western Front
1982
Punk and Disorderly
1982
Rat Music for Rat People
1982
Wargasm
1982
P.E.A.C.E.
1984
Viva La Revolution!
1985
Lovedolls Superstar Soundtrack
1986
Play New Rose For Me
1986
Faster & Louder
1993
Real Punk!
1996
Official Skateboard World Championship
1997
Snowboard Tribute
1998
United States of Punk
1998
External Resources:
Other Sites
Direct links to the same topic on other websites.
This category needs an editor