The Quarrymen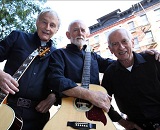 Founded As
The Blackjacks
Also Known As
Johnny & The Moondogs
The Silver Beetles
The Silver Beatles
The Beatles
Years
1957 -
From
Styles
Members
Colin Hanton
drums
Len Garry
tea chest bass
Rod Davis
banjo
Former Members
Search
The Quarrymen were formed in the late 1950s in Liverpool, England. A founding member was John Lennon, who would soon draft the talents of Paul McCartney and George Harrison. These three would take the Quarrymen through numerous name changes until they settled on the name The Beatles, by which they would become known worldwide in 1964.

In the 1990s, the remaining founding members of The Quarrymen reunited and have performed on occasion since then, also releasing three albums.

In recent years, members Eric Griffiths and Ken Brown have died.
Subcategories:
Releases:
Related Categories:
External Resources:
Other Sites
Direct links to the same topic on other websites.