Delirious?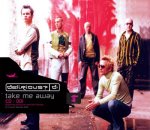 Founded As
Cutting Edge Band
Years
1992 - 2009
From
Styles
Members
Jon Thatcher
Bass
Martin Smith
Vocals, high strung, and electrics
Paul Evans
Drums and percussion
Stuart Garrard
Electric guitars, slide, e-bow, and vocals
Tim Jupp
Keyboards, hammond organ, and accordion
Former Members
Stewart Smith
Drums and percussion
Search
Christian Rock band from Littlehampton, UK. Formed in 1992, the band has had a number of UK chart hits, including Deeper, See The Star, and It's OK.
Subcategories:
Releases:
Appearances:
External Resources:
Newsgroups
Other Sites
Direct links to the same topic on other websites.